WEB VIDEO: Evisors
Evisors | Great Advice. On Demand.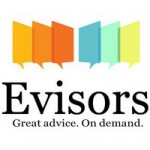 Evisors is an online marketplace for expertise – connecting people with qualified and knowledgeable experts.
Get the inside scoop on how to get the into most prestigious schools and jobs by talking to the real world experts who have been there before you. Schedule a conversation with an expert today!
Learn more about Evisors, voiced by Lauren McCullough.
Created by Vismo Media