WEB VIDEO: PocketMaps
PocketMaps | A pocket-sized guide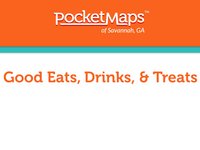 PocketMaps is a pocket-sized guide to downtown Savannah's finest food, drinks and more.
Unfold. Fine Food. Go.
At PocketMaps™ We've created a dining guide to the city that folds down to the size of a credit card, making it fun and easy for visitors to find the perfect restaurant! To get your copy or place an ad, please visit pocketmaps.com.
Learn more about PocketMaps, voiced by Lauren McCullough.
Created by nathan k. boyd